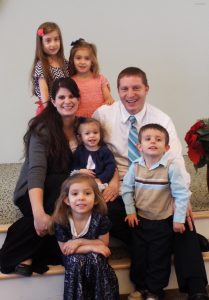 Pastor Thad & family
The greatest opportunities in life are often closer than we realize. At Bright Way we believe the Bible—that there is a God who changes and brightens lives wonderfully. We believe that life is a gift more valuable than all the possessions of the world. We believe that the prescriptions of Scripture are the just as dynamic and relevant today as ever. We believe that there are answers to every question of life, and that God reigns most competently.
We love God because He first loved us. That's a fact recorded in 1st John 4:19, and it's also a life-giving encouragement. At Bright Way it is our prayer and desire to express sincerely His amazing love as much as possible. Whether you are for us or against us, you are loved here.
Jesus Christ presented two pointed questions that are still very relevant today. He asked "What shall it profit a man, if he shall gain the whole world, and lose his own soul? Or what shall a man give in exchange for his soul?" (Mark 8:36-37).
Many religions and philosophies present ideas about life as we experience it, and what happens or doesn't happen after. Some deny the existence of spiritual things altogether. Whatever your particular position may be, if the basic message of the Bible is true, we all have a judgment day appointed in the future. And if the basic message of the Bible is true, our preferences will certainly not alter the reality of that day. We are assured "It is appointed unto men once to die, but after this the judgment" (Hebrews 9:27). Are you ready for that day? You certainly can be.
Jesus' first question presents a strong contrast between gaining the world and losing your soul. The world is full of things that can distract us from the most important matters of life, so this contrast is very appropriate. All the wealth and conveniences in the world are only hollow illusions compared to eternity. Psalm 49 explains that "They that trust in their wealth, and boast themselves in the multitude of their riches; None of them can by any means redeem his brother, nor give to God a ransom for him."
Jesus' second question flows naturally behind His first and is perhaps the most penetrating question in all of life. What can you give in exchange for your soul? The correct answer to this second question is the same as the answer to the first—"nothing." The Bible makes it patently clear at many points that we each have a guilty soul. If we will be truly honest before God, we each know—as the Bible says—that "All we like sheep have gone astray" (Isaiah 53:6), that "all have sinned, and come short of the glory of God" (Romans 3:23). A guilty soul needs more than repair, it needs replacement.  We need an exchange for our soul.
That's why Jesus came; He gave His soul for ours. He took the blame for our wrongs. He paid the price that we could not pay. He DID what we could never do. Romans 5:6 celebrates, "For when we were yet without strength, in due time Christ died for the ungodly."  Romans 5:8 continues, "while we were yet sinners, Christ died for us." First Peter 3:18 reveals that "Christ also hath once suffered for sins, the just for the unjust, that he might bring us to God."
God's laws are for our good. When we sin, we violate His laws and set up for pain & failure. The truth abbreviated from James 1:15 is that "sin, when it is finished… death." God cares deeply if we sin; because He loves us, because He has a much better vision for our lives, and because our sin hurts others that He loves. To resolve properly the consequences of our sin, we'd be destined for an eternity in Hell. Revelation 20:15 specifies that "whosoever was not found written in the book of life was cast into the lake of fire."  [a future event]
All the work necessary to fully redeem and secure our souls forever was DONE in the ministry of Jesus Christ. Hebrews  1:3 tells us that "he …by himself purged our sins." We cannot save ourselves.           (…continued on back)
It is Christ alone who can redeem a soul. Ephesians 2:8-9 summarizes that "by grace are ye saved through faith; and that not of yourselves: it is the gift of God: Not of works, lest any man should boast."
This amazing grace of God is freely offered to every individual regardless of race or record. But it must be requested. You are free to accept or decline. God does not twist arms, nor does he disregard our will. If you want sincerely to be forgiven of your sin in the person of Jesus Christ, then just ask.  "Ask, and it shall be given you." (Matthew 7:7). Admit to God that you need a Savior and accept what the Lord Jesus has already done for you. You are promised salvation if you believe and call out for His help. Romans 10:9-13 promises that "whosoever shall call upon the name of the Lord shall be saved." The Lord Jesus will forgive and secure all those who receive sincerely His finished work—His own pure blood offered for us.
Jesus died for our sins, but He also rose from the dead to confirm that His work conquered sin, death, and Hell. His Spirit will literally live WITH us and overcome sin in our lives as we yield to Him day to day. We are ETERNALLY SECURE in Jesus Christ from the first moment that we receive Him as Savior, but it is our FREE PRIVILEGE to grow WITH Him from that moment on. In Colossians 1:27 we find that the greatest wealth that we can experience in this world is simply "Christ in you." That is a wealth that will never lose any of its value. Hebrews 13:8 confirms "Jesus Christ the same yesterday, and to day, and for ever."
There are answers to your questions. The Lord Jesus said "Ask, and it shall be given you; seek, and ye shall find; knock, and it shall be opened unto you." (Luke 11:9). Life is full of questions. If you want answers, they can be found.
The Gospel ministry is my life's calling, and I deeply value any honest Bible or life questions that you may have. Please let me know if you have questions or interest.  It's my sincere desire to be a help in any way that I can.
Also, if you are looking for a good local church, do yourself a favor… make some time and stop by for a Sunday morning or Thursday evening service. You'll be glad that you did.
Your friend in Christ,
Pastor Thad Kuntz