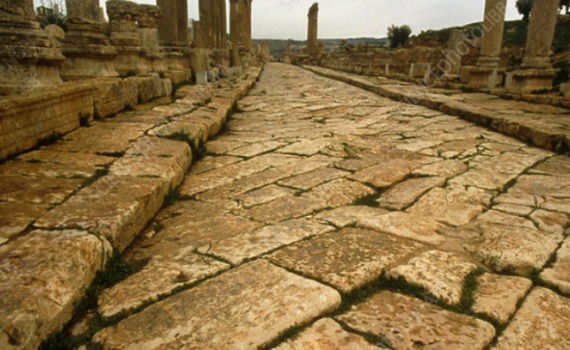 Category:
Spiritual
The "Romans Road" is a simple way of presenting the gospel using verses from the book of Romans. It was written by the Apostle Paul during his 3rd missionary journey about 23 years after the events of the gospels to Christians he had heard about but never met. Paul wanted to give them a complete description of the fundamentals and foundations of Christianity: sinful nature of all men in the eyes of God, justification by faith in Jesus Christ, freedom from sin, and victory in Christ, judgment, spiritual growth, and godly living.
"As it is written, 'There is none righteous, no, not one.'" (Romans 3:10, KJV)
Quoting from the Psalms, the apostle Paul declares that no single human being is "righteous" (the meaning of which is best understood as "right with God").
1. I am a "good person" do I really need salvation? In many years of talking to people, I think 9 out of 10 people categorize themselves as "good" people and do not understand their need for salvation.
"For all have sinned, and come short of the glory of God." (Romans 3:23, KJV)
Lest someone protest that they are a good person, especially when compared to people they know or observe in the news or in their workplace (or wherever), Paul points out that the standard is not your neighbor, but rather God Himself.
It is not enough that you compare yourself to another human being and think "Well, I'm not as bad as him."
The standard is God's holiness. And all of us fall short of that standard.
2. I am not a really bad person, is my sin really that bad? Almost everyone considers themselves to be "relatively" better (less bad, less sinful, and less depraved) than others and so forgive themselves for their "relatively" minor sins.
"For the wages of sin is death; but the gift of God is eternal life through Jesus Christ our Lord." (Romans 6:23, KJV)
Having established that we are all sinners who fall short of God's glory, Paul explains that the "wages" (or earnings) of our sin is "death." This includes both physical death and spiritual death.
Physical death is when your soul separates from your body. Spiritual death is when your soul is separated from God. And this separation from God extends into eternity for those who die in their lost and sinful state.
Because of our sin, we face the reality and inevitability of both physical death and eternal separation from God.
Paul, however, does not leave us with just bad news. He mentions that the "gift of God" is "eternal life through Jesus Christ our Lord." And to further explain this, we step back a chapter in Romans to go to the next milestone marker in the Romans Road.
"But God commendeth his love toward us, in that, while we were yet sinners, Christ died for us." (Romans 5:8, KJV)
God does not leave us in our sinful state. He does not leave us with the prospect of facing both physical and spiritual death. There is, as they say, "more to the story."
3. I am too bad to be saved, how can there be any hope for me? Those, who do not consider themselves better than others, often consider themselves to have missed the mark, with so many sins stacked up on their side of the scale, that there is no hope for them.
Paul says that God demonstrated or commended (gave) love to us even when we did not deserve it. Even when we were deep in sin, "Christ died for us."
4. What do we do this information? Well, for that, we come to the final passage of the Romans Road.
"For whosoever shall call upon the name of the Lord shall be saved." (Romans 10:13, KJV)
The bad news is we all fall short of God's glory and we all face both physical and spiritual death because of it. The good news is that God loved us, sent Jesus to die for us, and anyone who calls upon "the name of the Lord shall be saved."
For a deeper explanation of what it means to call on the name of the Lord, Romans 10:13 should be read and understood in the context of the verses which precede it, Romans 10:9-10. Verses 9 through 13 of chapter 10 all beautifully speak to the plan and promise of God's love and salvation.
"That if thou shalt confess with thy mouth the Lord Jesus, and shalt believe in thine heart that God hath raised him from the dead, thou shalt be saved. For with the heart man believeth unto righteousness; and with the mouth confession is made unto salvation. For the scripture saith, Whosoever believeth on him shall not be ashamed. For there is no difference between the Jew and the Greek: for the same Lord over all is rich unto all that call upon him. For whosoever shall call upon the name of the Lord shall be saved." Paul the Apostle, Romans 10:9-13, KJV
If you want to understand what it takes to have your sins forgiven, to be saved by God, and thus have your place with God in eternity firmly established, Romans 10:9-13 is perhaps the clearest explanation in all the Bible — with the exception of Jesus' conversation with Nicodemus in the third chapter of the Gospel of John.
We must communicate to God our clear declaration that Jesus is Lord and we must believe that Jesus rose from the dead. This must be a sincere, intentional decision we make before God. And those who are genuine and authentic in their confession of Christ and profession of faith "shall not be ashamed."
This passage also makes clear that all of humanity (both "the Jew and the Greek" — referring to Jew and Gentile, which in biblical terms, comprises the whole of humanity) is loved by God and is eligible for this offer of salvation. God will hear anyone who calls on the name of His Son as Lord.
"And this is the confidence that we have in him, that, if we ask any thing according to his will, he heareth us:" – 1 John 5:14.
Pray, believing, "Lord I admit that I am a sinner and deserve Your punishment in hell. Forgive me for my sins – I repent. I trust Jesus Christ as my personal Saviour and call upon Him to save me from my sins. I believe that He died for me on the Cross and only His blood can wash away my sins. I ask for Your gift of Eternal Life, in Jesus Name, Amen!"